So when Covid-19 hit... and things were getting locked down, we were all scared to go to the grocery store and I wanted the fresh veggies I was used to. I wanted to stock up on things we would use and I didn't want things going to waste. You know how you buy onions, peppers and even cauliflower or zucchini or potatoes and if you don't use it fast enough, the onions get slimy, the potatoes grow buds, the veggies are not as firm and fresh…. eeek… sometimes they turn into watery messes if you leave them too long.
So I fixed that!!! I was so thrilled to have been doing this before the pandemic… but I was doing it on a smaller scale…
Buy a bag of onions and chop the whole thing!!! Buy potatoes and chop the whole thing ( julienned, cubed, sliced). Wash and chop those peppers (diced or in strips) and FREEZE them FLAT! Why flat? So they can break apart easily! OMG! Such a game changer in our house! Anyone can pull off a nutritious omelette with onions and peppers and even potatoes in it and it takes no time at all due to all the prep! Freeze left over ham, cubed, for quick ham and cheese anything or a pasta carbonara!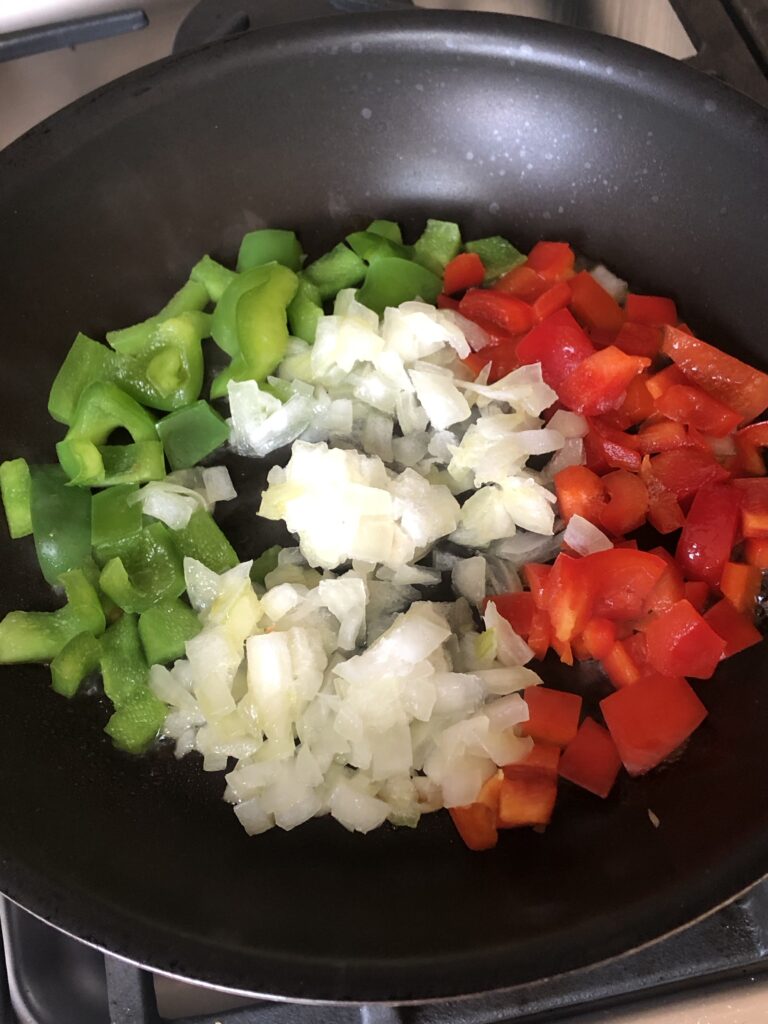 Making Pad Thai or Stir Fry and need those red peppers sliced thin? Got that covered! How about making homemade chili? Toss those frozen peppers and onions into your crock pot or saute pan and you're good to go! I love how this method has saved me prep time in the moment!
Need a side dish in a hurry, just take those cubed potatoes out of the freezer, drizzle with oil and spices and pop in the oven! SOOOO simple! The trick I found with potatoes is that once they are cut, you'll want to rinse them in water to get some of the starch off… otherwise they'll turn brownish pink before they get frozen!
I hope this inspires you to save time during the week in your daily cooking and saves you money as nothing will go to waste! Cooking has been so much more enjoyable when most of the prep work of washing and chopping has been done!
Comment and let me know if you tried it and what you think!