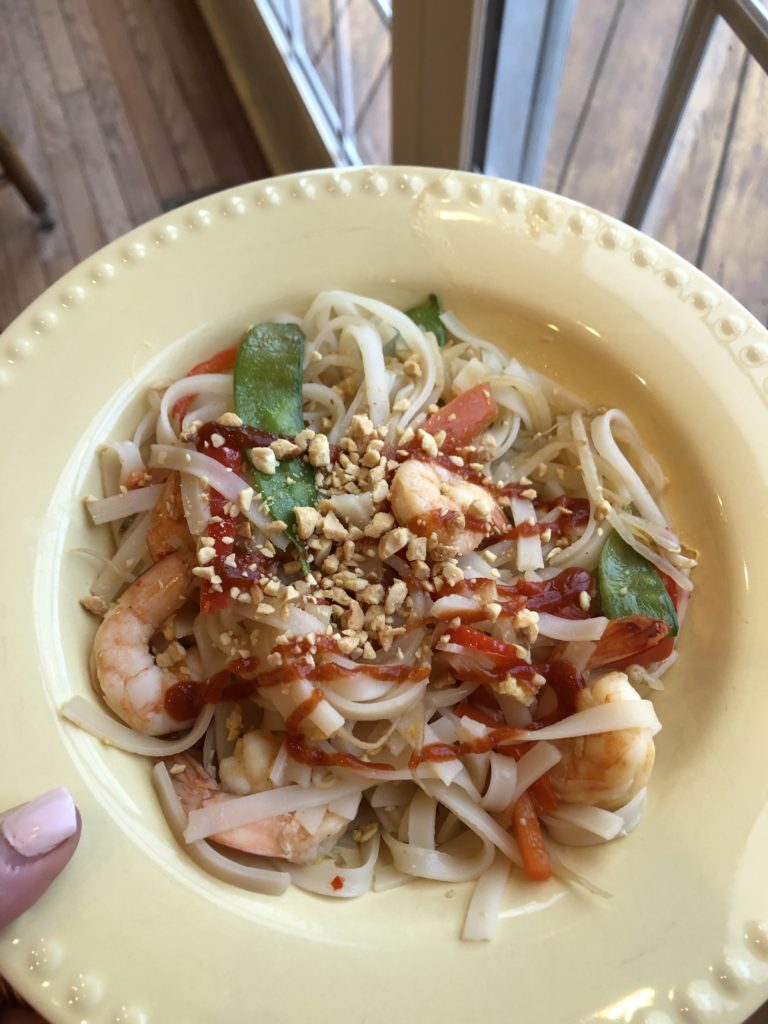 After I shared my blog with my friends, someone immediately asked me for this recipe! I'm so excited to share it!
Pad Thai is one of my "cravings" I have and I love that I can make it myself now. It's super easy and delicious!
You'll need the following:
8 oz rice noodles
2 tbs lime juice
2 tbs brown sugar
1 tbs fish sauce
1 tbs soy sauce
1/4 tsp cayenne pepper
2 tbs vegetable oil
1 red bell pepper thinly sliced
1/2 small package of bean sprouts
1/2 small package of snow peas
2 cloves garlic minced
2 eggs, lightly beaten
1 lb shrimp, thawed, peeled and deveined, tails off is nice too.
2 green onions, thinly sliced
1/4 c peanuts chopped
Sweet chili Sauce
Cook rice noodles per instructions
In a small bowl whisk together lime juice, brown sugar, fish sauce, soy sauce, and cayenne pepper. Set aside
In a large nonstick pan over medium-high heat, heat oil. Add bell pepper, snow peas, sprouts and cook until about tender (approx 4 min). Stir in garlic and cook until fragrant about 1 min more. Add the shrimp and season with salt and pepper. Cook until pink.
Push the shrimp and vegetables aside and pour in the egg and scramble until just set then mix with the shrimp mixture. Add cooked noodles and toss until combined. Pour in the lime juice mixture and toss until coated.
I found that this recipe is a little dry… so add sweet chili sauce to taste and to moisten. Depending on how spicy you like it, add Sriracha sauce to the entire pan or to individual servings. Top each plate with green onions and peanuts and even a wedge of lime! Enjoy!