With all the uncertainty in the world, we are not going on any vacations this summer. We love to travel but it's just not possible this year. No one wants to get on a plane this summer for good reason.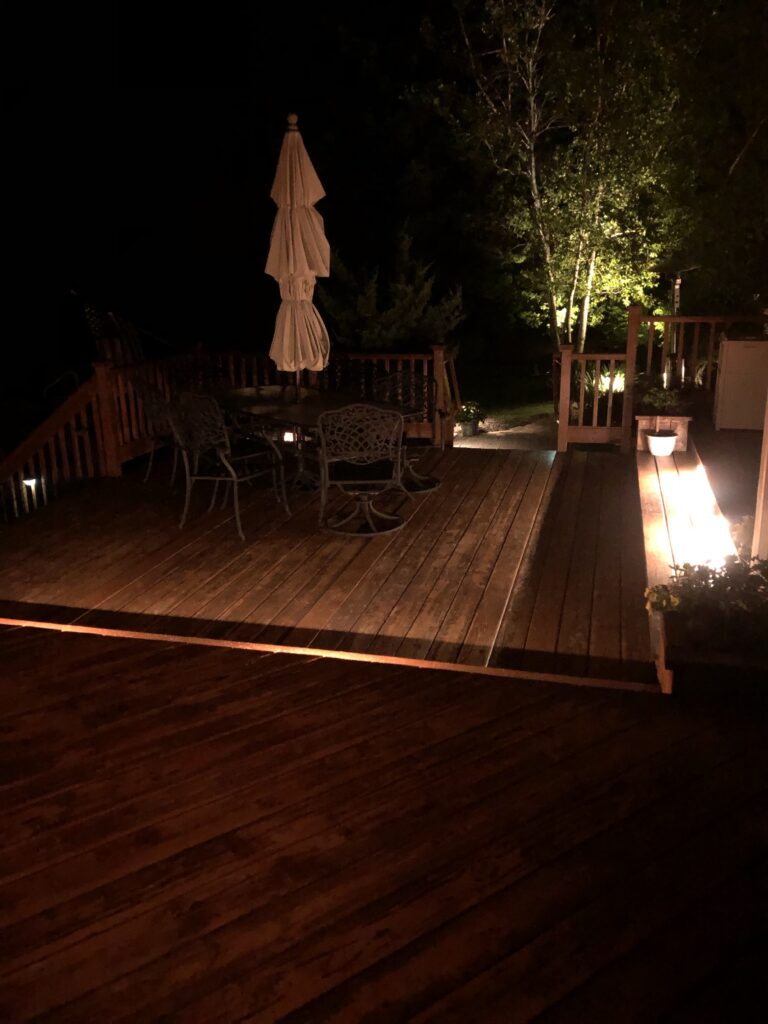 New Jersey is blessed and cursed at the moment….. one of the most locked down states in the country but also one of the most delightful places in the summer. Did you know there are lovely mountains in NJ? I didn't either…. before I moved here…. and it's delightful out here in the Garden State!
Growing up in the South, I never knew how fabulous Jersey Corn and Tomatoes were…. or how delightful the Jersey Shore could be so at least we have a gorgeous summer to look forward to!
We have decided to make lemonade out of lemons and are doing things to make our outdoor living space even more enjoyable like many others around the country.
Now is a perfect time to refresh the pillows, umbrellas and flower pots or whatever you can to enjoy your outdoor space even more. Let's face it, you're going to see it a lot this summer. We took on a low voltage lighting project this past week that really added value to our deck! I say "we" lightly because I had input but my husband did all the work. Thank goodness he is handy because he just knows how to do things like this and is willing!
We added lighting to our deck steps so that we can confidently walk out from the house and see the step down. All of a sudden, we find ourselves in our 50's and it's not bright enough to see the step down. LOL…. we are indeed turning into our parents.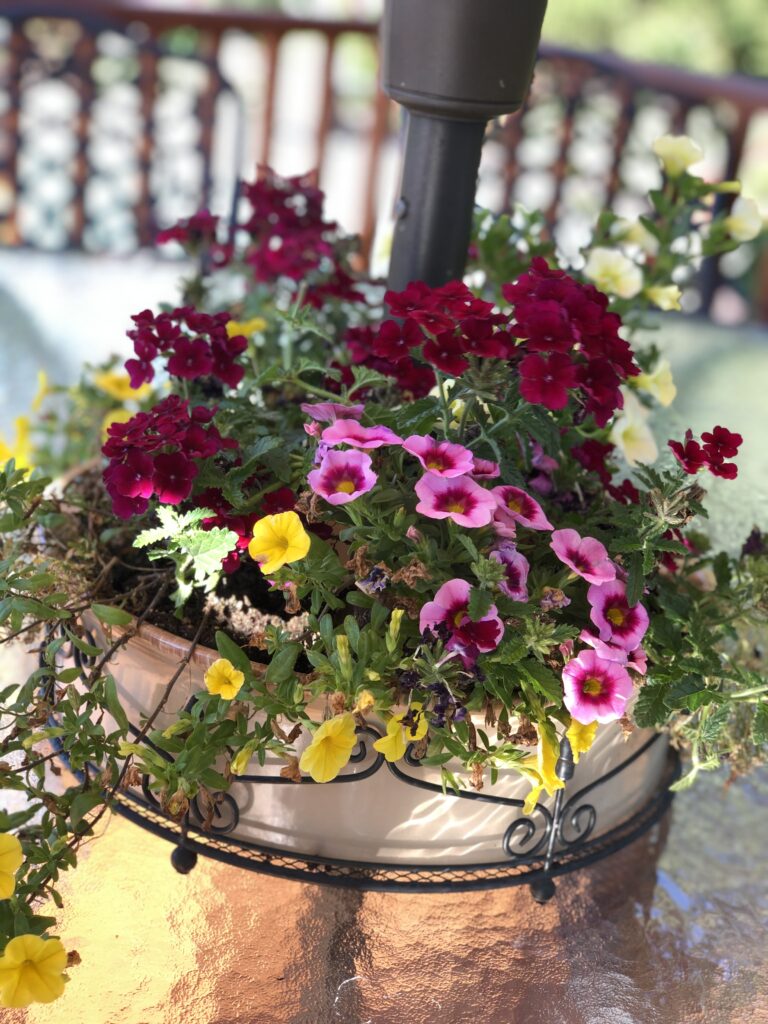 I've also pulled out an old decorative piece I hadn't used in a while… this gorgeous planter that goes around my umbrella to create a 360 degree centerpiece! ! It really makes me happy to see it and makes my outdoor living space more inviting! Even if you don't have this pretty planter, you can easily just put a few small flower pots out with some annuals to spruce it up! I am going to be home more than not this summer so I certainly have time to water it. That's always been the challenge when we travel.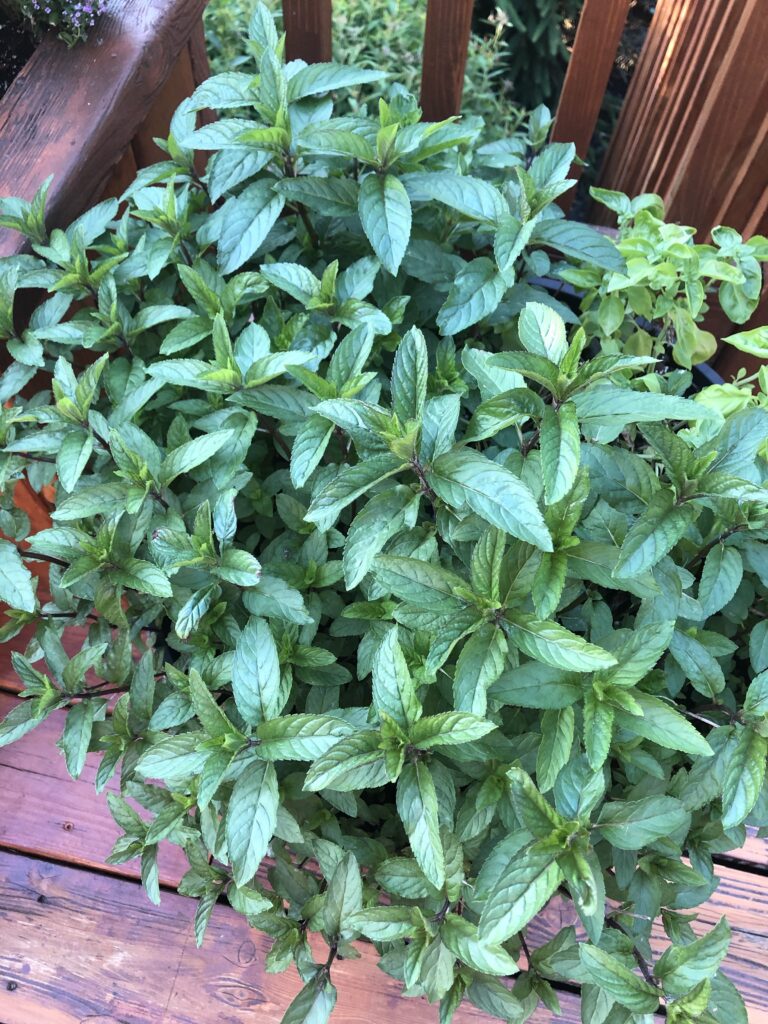 I wasn't up to planting a full on garden this summer but I do love to plant a few herbs and tomatoes for a quick Capresse salad (tomatoes, buffalo mozzerella and some basil) or a nice little refreshing Mojito with some fresh mint and lime! This simple pleasure adds to our outdoor dining experience and gives me a little something to tend to! We simply potted these in pots on the deck so I can water everything easily! SO much joy out of these simple things!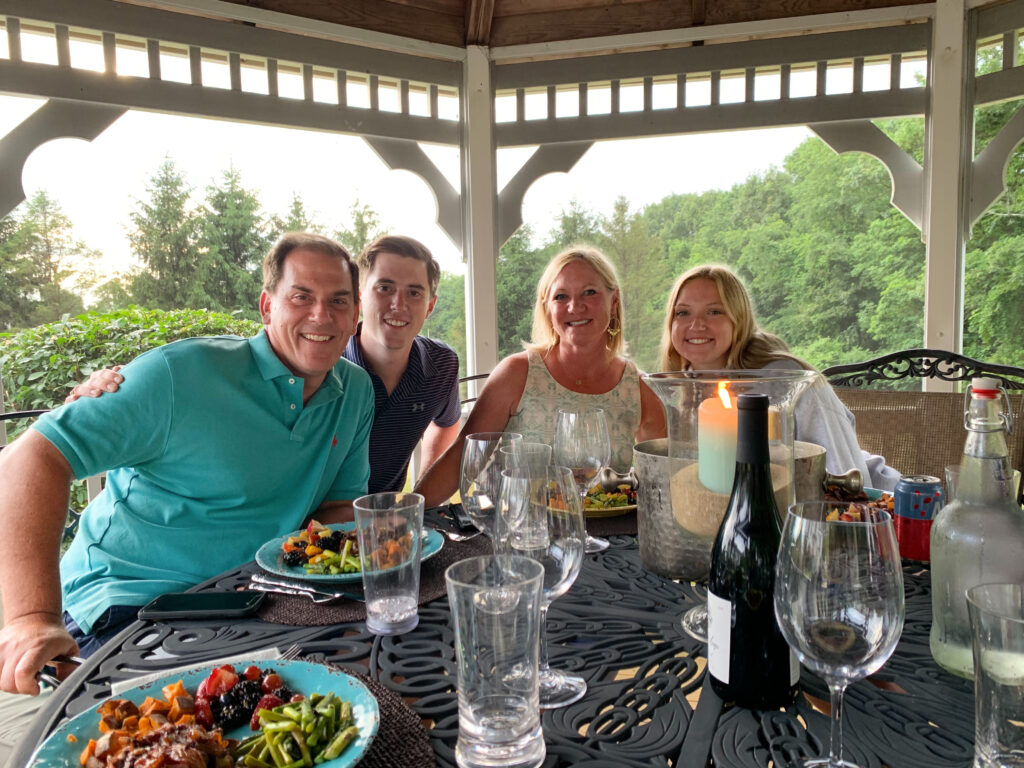 Finally… since we want to entertain but we have to do it carefully and responsibly, we moved an outdoor table into our gazebo for covered outdoor dining! Honestly, it felt like a special event or a vacation… sitting outside and being protected from the drizzle that sometimes comes with summer storms. We enjoyed a poolside dining experience and once the rain stopped, we enjoyed the beautiful sunset!
Joy and happiness doesn't have to come from traveling the world, or having things… sometimes just cherishing your home, and your friends and family and all the blessings that we have right at our fingertips, is all you need. The pandemic has unveiled a lot of emotions in people ranging from fear to annoyance, panic, anxiety, care, love and gratefulness…. and sometimes we can succumb to all of these emotions even in one day.
I want to choose to be happy and hopeful rather than being fearful and desperate. Don't get me wrong, I'm being careful and am taking this pandemic seriously. I'm following guidelines and not being around a lot of people because I do want to protect the people I love… but I am choosing to be grateful everyday for what I have. People I love, friendships and health… I do feel blessed! I pray that everyone reading this can focus on the good in this situation… I know it's not possible for all but I hope that focusing on the good brings you more good in your life! Remember… your thoughts, become your words, become your actions, become your habits which become your destiny…. so choose happy!! God bless!